12.12.2014, Call to Action
On 12 December 2012, the United Nations unanimously endorsed universal health coverage. Starting this year, Universal Health Coverage Day will be celebrated with the support of a global coalition. ICCCPO (now Childhood Cancer International), is part of this coalition.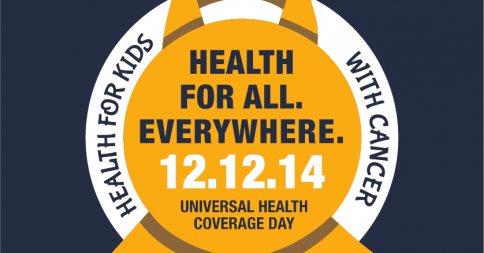 We believe that we should all strongly speak out and actively support the call for Universal Health Coverage in our countries and in all nations. Universal Health coverage (UHC) means that every person, everywhere, has access to quality health care without suffering financial hardships.
As parents, families, carers and supporters of children and adolescents with cancer, we have  experienced how catastrophic the cost of cancer treatment is . It causes extreme financial dislocation and pushes families who are already poor, deeper into poverty.
For children and adolescents with cancer, absence of Universal Health Care often leads to delayed diagnosis, abandonment/inability to complete treatment, difficulty in accessing affordable drugs and  seeking follow up care  (for survivors).  These reduces survival rates and contributes to current inequities between developing and high resource countries.
The World Health Organization's Constitution affirms that the enjoyment of the highest attainable standard of health is a fundamental human right and a cornerstone of sustainable development . The United Nations Convention on the Rights of the Child (1989)reinforces "the right of the child to the enjoyment of the highest attainable standard of health and to facilities for the treatment of illness and rehabilitation of health". Signatory countries "shall strive to ensure that no child is deprived of his or her right of access to such health care services" .
We are encouraging  your organization  to sign on to the Universal Health Coverage Day and to commit to displaying a prominent sign of solidarity on December 12 (e.g., on your website or social media). You can use the  Communications & Advocacy Toolkit in their site to help you spread the word.
To expand the scope of partners, we'd also love for you to encourage colleagues at other civil society organizations or within your network to come on board  and support UHC Day, too. Please encourage them to sign-up as well.